Oil Storage Tanks Supply and Installaton
Nolan Tank Services, a Nolan Oils subsidiary, are distributors and installers of plastic oil tanks.
These tanks, from the market leaders, are manufactured to the highest British Standards and are available in a wide variety of shapes and sizes to suit all applications.

We are OFTEC Registered Installers and our registration has recently been reviewed and renewed for a further 5 years.
» Why choose and OFTEC registered technician?
---
Oil Tank Installations
Leakage and Spillages can have serious consequences, so you need to ensure your oil storage is:
SAFE - with easy access for delivery at ground level
SECURE - from leakage and spillage
VISIBLE - for easy stock control
MAINTENANCE FREE - avoiding painting and de-sludging
---
TANK INSPECTION SERVICE - REQUEST FOR INFORMATION
Make your information request using our On-Line form or
Telephone: 01869 342111 / Fax: 01869 343499
Check your tank's level from indoors ...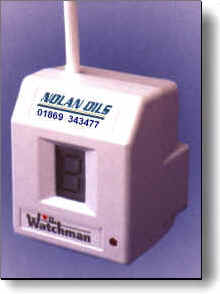 The Oil Watchman plugs into an electrical socket inside the house. A radio signal from a probe in the storage tank activates its display to show the level of oil. The digital display changes from F when full to 0 when nearly empty. When the level is low, a red warning light flashes.
The Oil Watchman:
is a breakthrough in technology
is easy to install
helps plan fuel deliveries
fits most standard tanks
comes with a 12 month guarantee
Also available: Remote Telephone Monitoring • Remote Monitoring via GSM
---
Nolan Oil tanks are supplied and installed by specialists who will efficiently change your old tank without fuss. Our service includes:
Pumping out of existing oil
Removal and disposal of your old tank
Installation carried out under the Duty and Care of Waste Regulations for oil
TANK INSPECTION SERVICE - REQUEST FOR INFORMATION
Make your information request using our On-Line form or
Telephone: 01869 342111